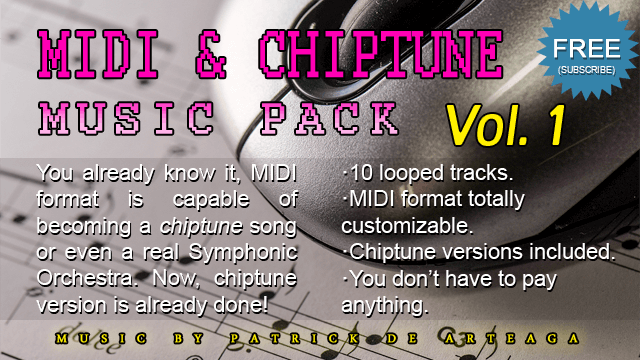 You want original music for your video game / YouTube video / podcast / whatever. But you don't want to settle for whatever music in audio format, not even with the works that I expose for free use on the section FREE Music.
You are looking for more than that. What you want is to have the power to decide on certain elements within a song, such as instruments, tempo, effects, and even, why not, you also want to dare to replace some notes for other, some chords for other,… Moreover, with a bit of musical ear you want to try to change the song completely until building your own idea, your own Original Soundtrack.
And you don't want to spend hundreds of dollars on hiring composers. Not even if they offer better service than mine.
MIDI & Chiptune Music Pack Vol. 1 (and the upcoming volumes that I'll be releasing) allows you to manipulate some of my songs completely at your whim. Import them to any music software that supports the .mid format (almost any software supports it) and let inspiration inspire you.
Why use MIDI?
Because these files are completely customizable, are very compact size and you can convert them to almost any other audio format with the highest quality results.
With this compilation, you can also have the chiptune versions of these songs in WAV and Ogg Vorbis formats. 8-bit style video games are very popular today, and you could make your own retro game easily!
Let's get down to business…
With this pack you will get these 10 tracks in MIDI format and their chiptune versions:
Assassin
Biological Weapon
El Infausto Ladrón de Joyas A
Homicida Paradójico
I Miss You
Interpretación de una fantasía
Interstellar Odyssey
Intrusión
Malign Chords
Merodeador Nocturno
You can listen to these tracks on the section FREE Music to get an idea of their content.
Best of this pack:
It is completely free! You just have to subscribe to my newsletter where, in addition to keep up with news of my work, you will also get an article with tips about how to add life to your project musically.
Worst of this pack:
Nothing.