GET A SOUNDTRACK FOR YOUR VIDEO GAME
Discover the best ways to set up your projects musically and even make your own original soundtrack while not being an expert musician.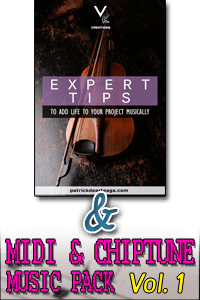 ·Follow a few basic tips that not everyone knows about adding music to your video game or your audiovisual project in a more professional way.
·Get 10 of my most popular songs in the miraculous MIDI format. Modify them with some audio software and customize your own original soundtrack. In addition, you will receive by email a basic guide to editing MIDI files.
·Also get these 10 tracks in chiptune version. 8-bit style video games are very popular today, why not try to make a retro game easily?
·Stop wasting your time using music that it does not convince you and start today working on the most suitable one for your creations. I will continue striving to offer you the best material.
NOTICE: By signing up you will also receive my newsletter and exclusive offers from time to time.
Your email address will be safe and will not be shared with ANYONE. You can unsubscribe with a click at any time.